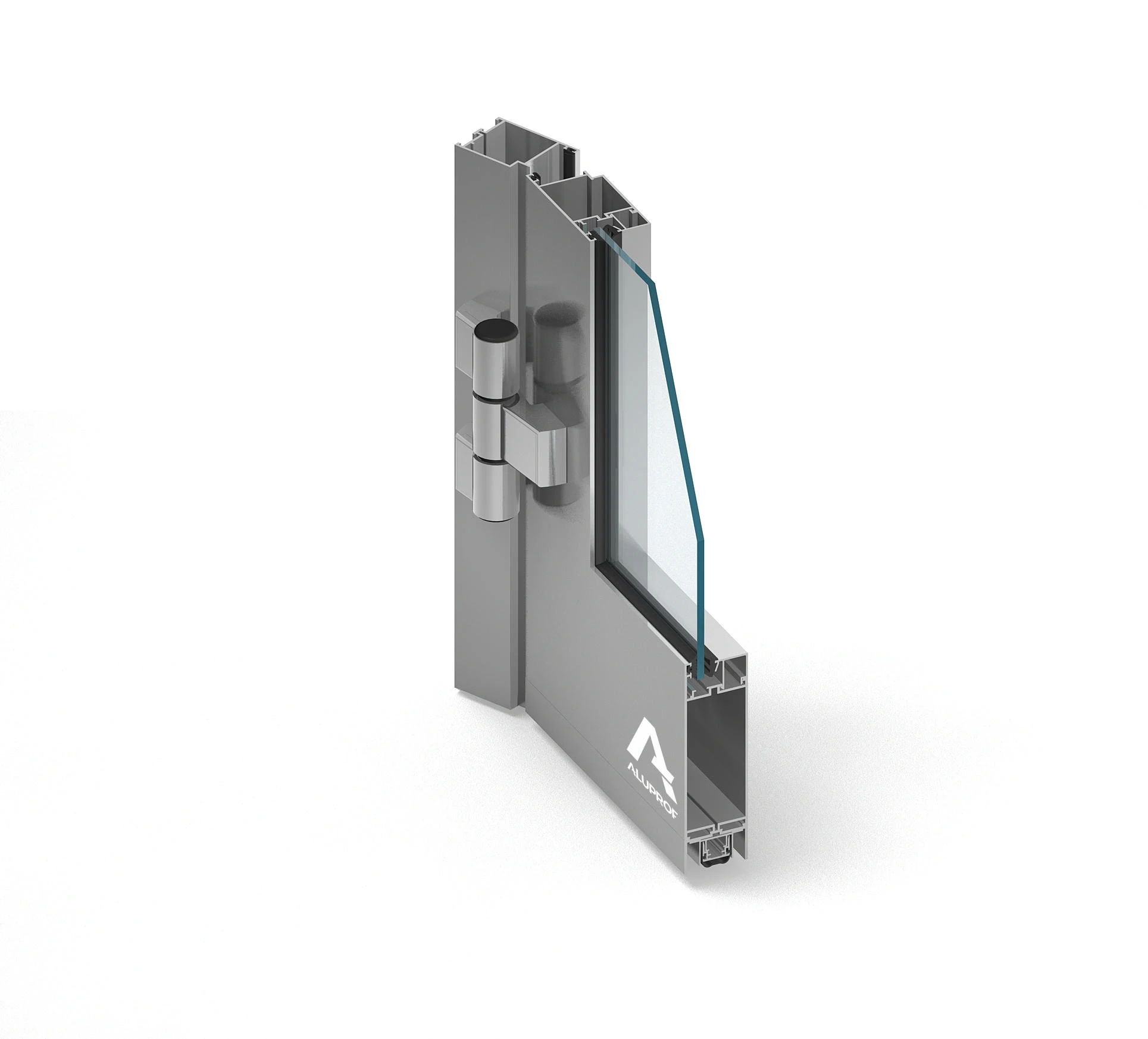 The MB-45D construction, based on the MB-45 system, includes partitions with single- and double-leaf smoke-proof doors in the class of S200, Sa, Sa in accordance with EN 13501-2. The smoke tightness performance of a door is mainly dependent on the appropriate use of seals around the perimeter of the door leaf, the inclusion of glass and other fillings, and the use of threshold seals.
The structural depth of the window profiles is: 45 mm (frame), 54 mm (sash), and for doors it is respectively: 45 mm and 45 mm. These parameters ensure the effect of a single plane from the outside when closed, in the case of the window, and the effect of flush surfaces of sash and frame, in the case of doors. The shape of the profiles makes it possible to create slim and solid window and door constructions.
A major advantage of the MB-45 system is its ability to bend profiles, including frames, sashes and connectors, allowing for the creation of various types of arches and curved structures.
Tightness is guaranteed by the use of special EPDM synthetic rubber gaskets, which are resistant to ageing during long-term use.
The system is closely related to the MB-45, MB-45FD, MB-60 and MB-70 window and door systems. A wide range of possibilities to choose between different variants of solutions, for example, in the case of construction details such as bottom seals of door leaves, seals of sliding and swing doors, the shape of glazing beads, the shape and height of door thresholds, further increases the versatility and attractiveness of the system.
The system allows the use of glazing sets with a thickness of 2 mm to 35 mm in window sashes, and 2 mm to 26 mm in fixed windows and door sashes.
Smoke-proof doors of the MB-45 system are included in Classification Report No. 1036/21/R570NZP.
Technical data
TECHNICAL DATA
Door frame depth

45 mm
Scope of glazing
2 – 25 mm
Door wing depth
45 mm
Maximum door wing dimensions
3141 x 1256
Max weight of door wing
120 kg
Quick contact
Need more information?
Get in touch with our specialists:


CHIEF TECHNOLOGIST FOR ALUMINIUM





Partners
We work with the highest quality products