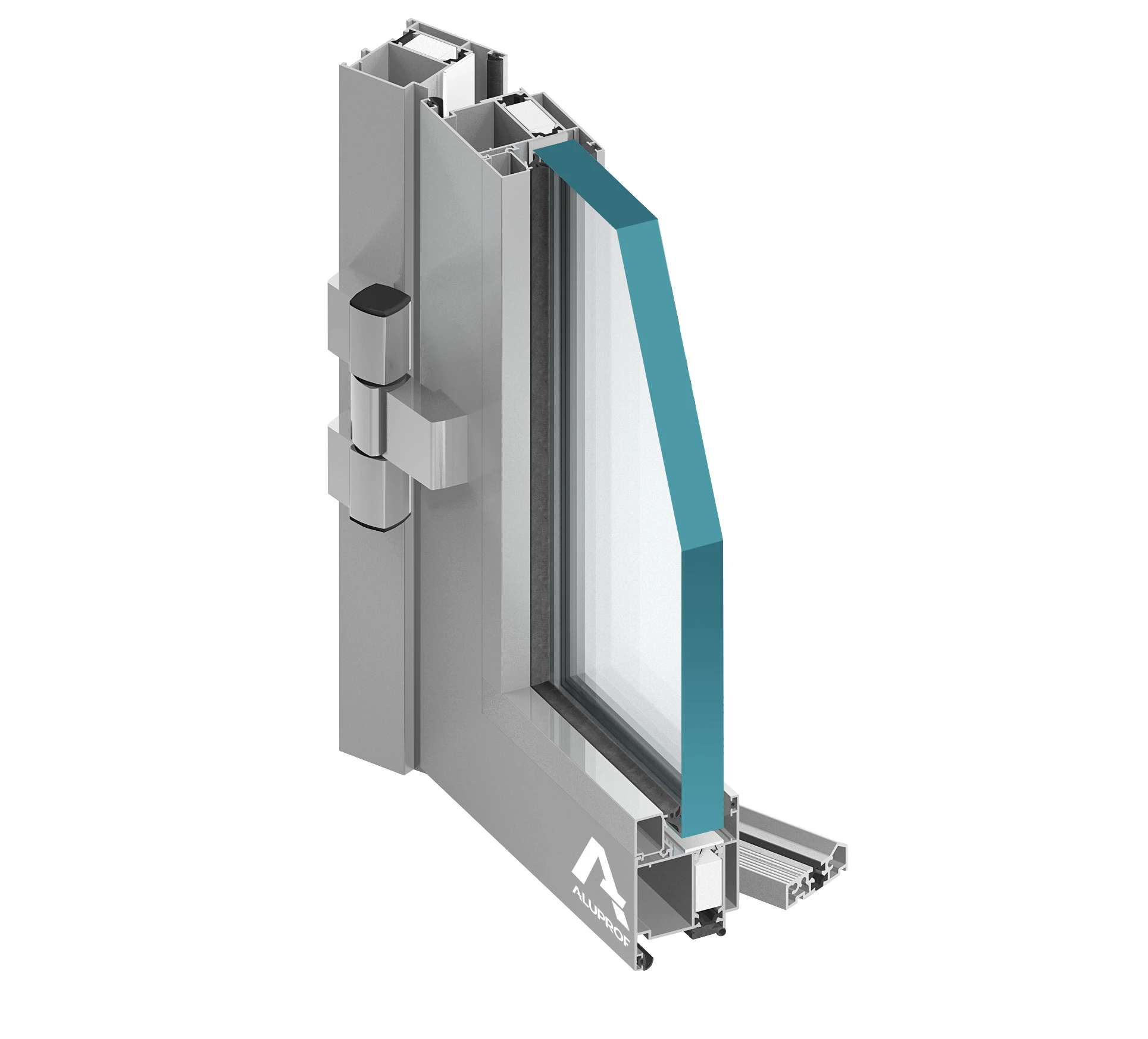 The MB-60E EI system is designed to create internal or external fire doors with one or two leaves. It also gives the possibility to create so called technical windows and fire partition walls.
Structures created based on the MB-60E EI system have a fire resistance class of EI15 or EI30 according to PN-EN 13501-2+A1. Doors made in this system can additionally meet the requirements for smoke tightness in the S200 or Sa class according to PN-EN 13501-2+A1. This system is classified as non fire-spreading (NRO).
Fire resistance up to EI 30
The basis of the presented solution are aluminium profiles with a thermal break from the MB-60E system, characterised by a construction depth of 60 mm. Fire insulation elements, installed in the internal chambers of the profiles, guarantee fire resistance. Additionally, the constructions are equipped with intumescent strips, creating an effective barrier in the event of fire.
The MB-60E EI system allows for the use of all typical fireproof glass in the EI15 and EI30 classes with thicknesses from 5 to 41 mm. It is distinguished by the fact that, unlike other fireproof systems, the glass in MB-60E EI is fixed from the inside using glazing beads. Special steel accessories protect the glass from falling out during a fire.
This system allows the creation of doors with maximum leaf sizes: up to 1.4 m wide and up to 2.475 m high. In the case of double-leaf doors, the width of the leaves can be up to 2.58 m. Thanks to its construction possibilities and compatibility with other MB series systems, MB-60E EI is often a very attractive choice among products offering fire protection.
FUNCTIONALITY AND AESTHETICS
fire protection system based on MB-60E – possibility of using common elements
Product range: 1 and 2 leaf doors, doors with fanlight and walls.
constructions in classes EI15, EI30
the system allows for the glazing of all typical fire resistant glass of different classes from 5 to 41 mm
the structural depth of the sections is 60 mm
glazing with glazing beads on the inside.
simple and quick prefabrication
FIRE PROTECTION SYSTEMS
fire protection system based on MB-60E possibility of using common elements
product range: 1 and 2 leaf doors, doors with fanlight and walls
all typical fire resistant glazing of different classes from 5 to 41 mm can be used
simple and quick prefabrication
Technical data and parameters
TECHNICAL DATA
MB-60E EI
Depth of frame / columns

60 mm
Sash / transom depth
60 mm
Stiffness of the columns (range of Ix)
–
Stiffness of the rafters (Iz range)
–
Glazing thickness

5 – 41 mm
MIN. WIDTH OF SECTIONS VISIBLE FROM THE OUTSIDE
Door frame / wall frame
62,5 mm / 55 mm
Door leaf/wall batten
67 mm / 76 mm
MAX. CONSTRUCTION DIMENSIONS AND WEIGHT
Max. door leaf dimensions (L×H)
L to 1400 mm, H to 2475 mm
Max weight of door leaf / wall area
120 kg
CONSTRUCTION TYPES
Available solutions
1 and 2 leaf doors, opening outwards and inwards, partition walls
| | |
| --- | --- |
| TECHNICAL SPECIFICATIONS | MB-60E EI |
| Air permeability | class 2, EN 12207 |
| Waterproof | class 3A, EN 12208 |
| Fire resistance | EI15 – EI30, EN 13501-2 |
| Thermal insulation | – |
| Sound insulation | – |
Quick contact
Need more information?
Get in touch with our specialists:


CHIEF TECHNOLOGIST FOR ALUMINIUM





Partners
We work with the highest quality products