Aluminium sliding systems: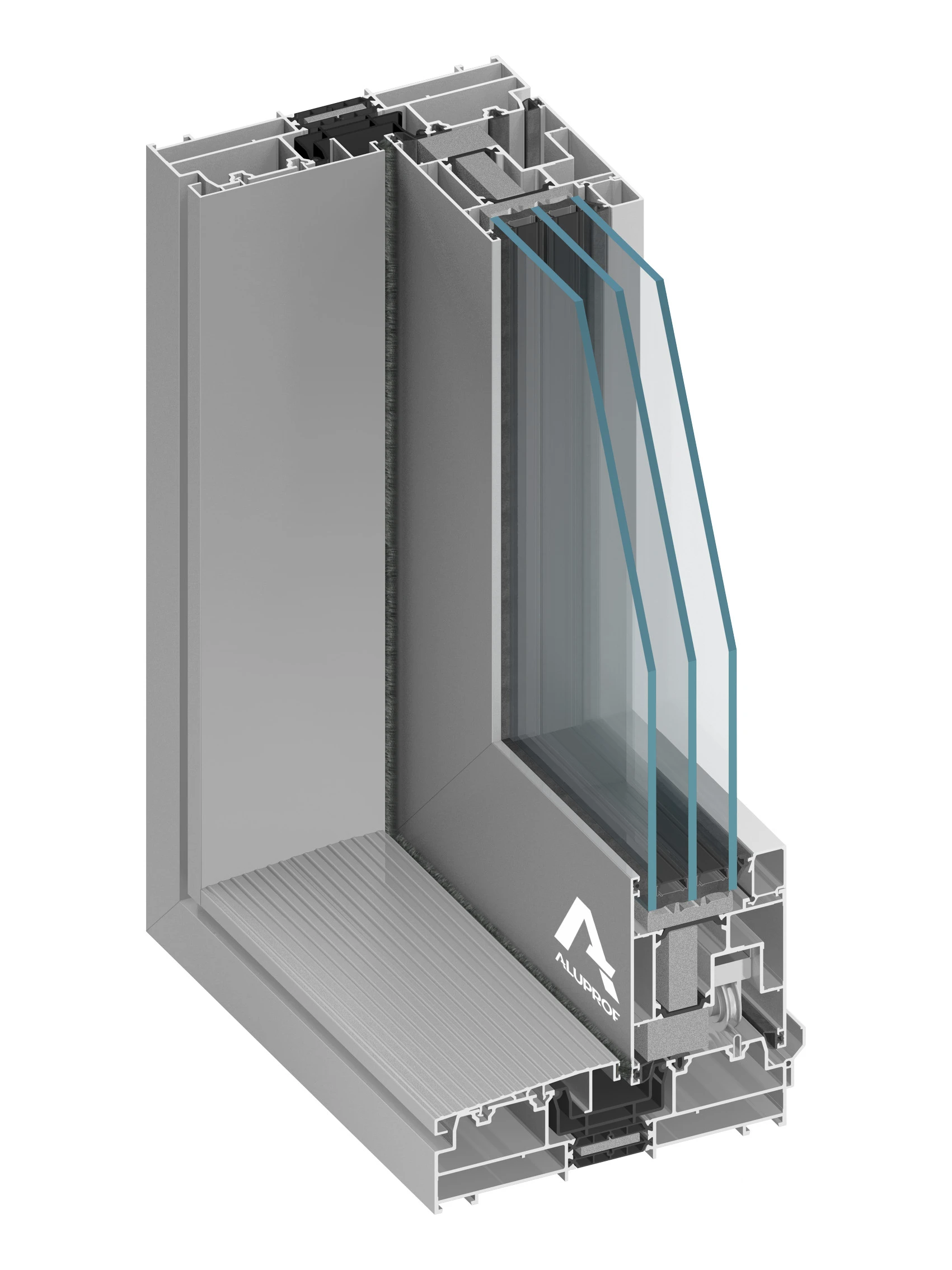 Lift and slide doors are the perfect solution for connecting rooms, such as rooms or conservatories, with outdoor spaces. They provide a practical transition to the balcony, terrace or garden, while offering great contact with the outdoors. When they are open, they do not restrict the space inside the room, making them more comfortable to use.
The MB-77HS system is one of the highest performing products, meeting all expectations associated with this product group. It is available in two different construction versions in terms of thermal insulation: ST and HI. The structure of the profiles allows the creation of large, exclusive doors, filled with single or double glazing. The materials and technologies used guarantee a high level of thermal and acoustic insulation.
Thanks to its advantages, this system is ideal for single-family buildings as well as luxury flats or hotels.
FUNCTIONALITY AND AESTHETICS
robust and slender profiles allow the construction of low threshold doors with leaf weights up to 600 kg, heights up to 3.2 m and widths up to 3.3 m
the frames are available in two versions: 2-rail and 3-rail
90° and 270° corner installation possible – exceptionally large space when door is opened
narrow post with a width of 47 mm or 50 mm
Convenient solutions with a low threshold and a flat threshold flush with the terrace
a wide range of infills, including the use of single or double chamber sets, as well as thermal breaks and additional accessories and insulating inserts, make it possible to achieve very good thermal and acoustic parameters of the construction
glazing beads in three appearance versions: Standard (rectangular), Prestige (rounded) and Style (shaped)
the closed shape of the glazing beads and the anti-burglary details allow increased burglary protection without changing the door's essential structural elements
special shapes of the gasket and glazing gasket as well as the corresponding hardware ensure high water and air tightness of the door.
the profiles are designed to accommodate a wide range of manual and automatic locking hardware available on the market
a profile is available to compensate for sagging of the ceiling by up to 20 mm and to adjust the level of the upper frame
a high degree of compatibility with the MB-86 system makes it possible to aesthetically combine MB-77HS doors with windows and use common components in their manufacture
wide range of colours allowing to arrange the door in any and independent interior and exterior décor
Technical data and parameters
TECHNICAL DATA
MB-77HS / MB-77HS HI
Frame depth

174 mm (2-rail profile), 271 mm (3-rail profile)
Sash depth
77 mm
Glazing thickness

13,5 – 58,5 mm
MIN. SECTION WIDTH
Frame
48 mm
Wing
94,5 – 105,5 mm
| | |
| --- | --- |
| TECHNICAL SPECIFICATIONS | MB-77HS / MB-77HS HI |
| Air permeability | class 4, EN 12207 |
| Waterproof | class 9A, EN 12208 |
| Thermal insulation | UW from 0,84 W/(m2K)* |
| Wind load resistance | up to class C4, EN 12210 |
* – UW for the MB-77HS HI door with a leaf size of 3.0 × 2.9 m, with glazing Ug=0,5 W/(m2K) with Chromatech Ultra frame
Quick contact
Need more information?
Get in touch with our specialists:


CHIEF TECHNOLOGIST FOR ALUMINIUM





Partners
We work with the highest quality products