Aluminium sliding systems: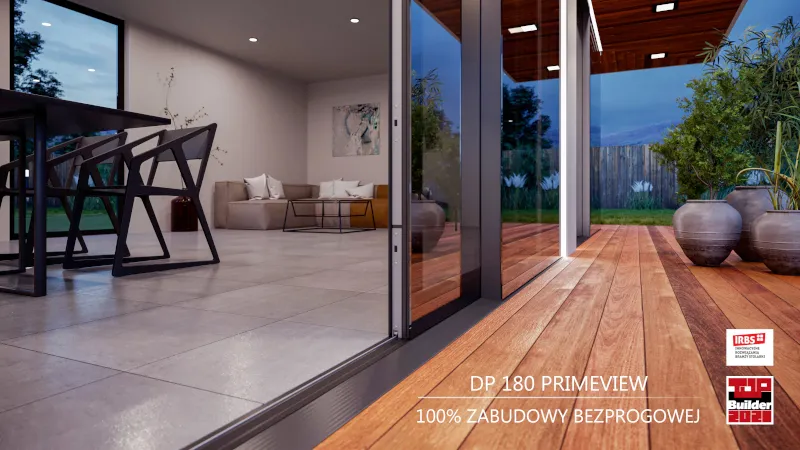 The DP 180 PRIMEVIEW system from Yawal is used to construct large-size lift-and-slide doors and is a leading solution on the Polish market. Thanks to its functionality and well-thought-out design, it is able to comprehensively meet customers' requirements in terms of expected construction schemes, technical parameters or maximum dimensions of the structure.
One of the unique design features of the DP 180 PRIMEVIEW is the REAL low threshold.
Perfectly flat surface without any hollows or nooks
Excellent thermal performance (three lines of thermal breaks)
Narrow mullion construction and construction with frosted glass possible
DP 180 GLASS
The unique solution of a low threshold allows for a completely threshold-free installation without any hollows or construction gaps. It guarantees comfort and safety for the elderly, the disabled and small children.
DP 180 PRIMEVIEW SYSTEM ADVANTAGES:
Possibility of RC2 class construction with narrow pillar
Glass version eliminating the visibility of aluminium elements from the outside
Galendage pocket doors can be created
All-glass corner at any angle possible
Possibility to make doors with a sunken threshold – no architectural barriers
Possibility of fitting an automatic system to open and close the door
The construction of the DP 180 Primeview system has the effect of reducing thermal energy losses and, therefore, the operating costs of the designed buildings. The product is designed for use in both residential and public buildings.
Quick contact
Need more information?
Get in touch with our specialists:


CHIEF TECHNOLOGIST FOR ALUMINIUM





Partners
We work with the highest quality products