Aluminium sliding systems: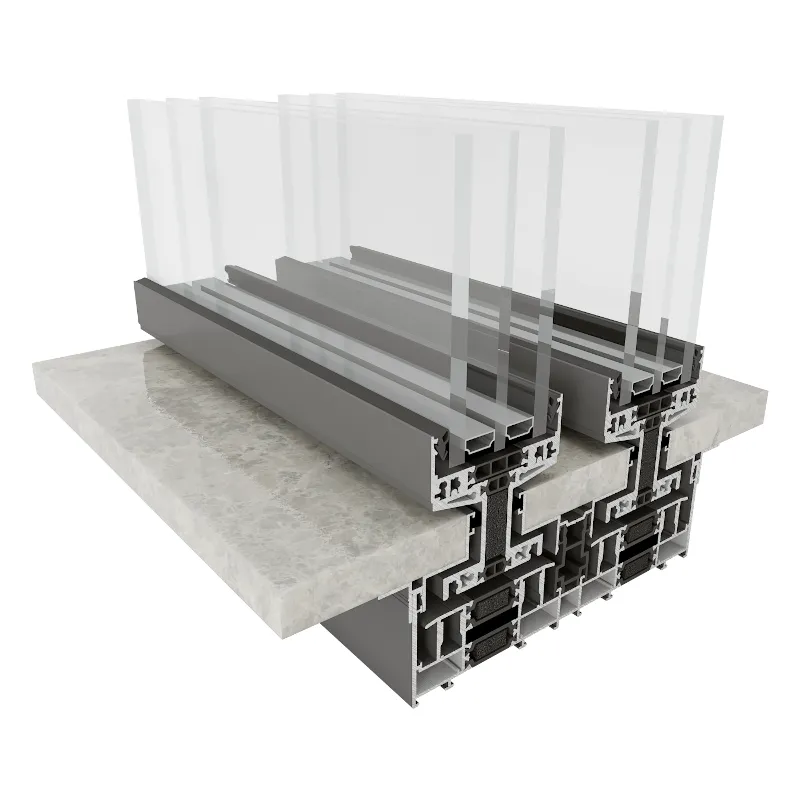 Large sliding door system with narrow profiles completely concealed in the floor, walls and ceiling.
Moreview makes it possible to construct doors with a maximum height of up to 4 m and a maximum weight of 1,200 kg for sliding sashes. The aesthetics of the construction are supported by, among other things, a visible mullion width of only 27 mm at the exit of the sashes. The innovative design allows glass panes to be installed side by side without any aluminium components visible from the outside. The static mullion makes it possible to create a sequence of fixed glazings, while the all-glass corner allows them to be joined at any angle.
UNLIMITED DESIGN POSSIBILITIES
The static mullion allows a sequence of fixed glazing to be constructed, which can additionally be joined at any angle thanks to the all-glass corner. Independent MV structures can in turn be joined at 90°. The system also provides for the possibility of creating a 'pocket door', which, when opened, fully retracts into the wall of the building in a specially designed 'pocket', maximising the passage light when the wings are opened.
COMFORT AND FUNCTIONALITY
Moreview doors have options for manual or automatic control, the control mechanism for the opening process can be hidden or mounted on the outside of the structure, as required. As part of the automation, the door can be controlled from, for example, a smartphone. The solution also features such amenities as a threshold-free design and a linear drainage system integrated into the frame, which efficiently drains water from the structure.
EASY TO INSTALL AND SERVICE
The system provides for the possibility of glazing with single and double glazing packets on the outside of the building, which greatly simplifies installation, given the dimensions of the glazing. On the other hand, the design of the running gear within the Moreview system allows it to be serviced by replacing the running rollers without having to remove the heavy door leaves.

SYSTEM CHARACTERISTICS

| | |
| --- | --- |
| Maximum weight of manually sliding sash | 400 kg |
| Maximum weight of automatic sliding sash | 1200 kg |
| Maximum weight of fixed sash | 1200 kg |
| Maximum construction height | 4000 mm |
| Maximum sash width | 4000 mm |
| Glass thickness | 50-60 mm |
| Construction depth for double-track rail | 192 mm |
| Construction depth for three-track rail | 294 mm |
| Structural depth of the sash | 72 mm |
| Visible connection width of sliding door leaves | 27 mm |
TECHNICAL SPECIFICATIONS
| | |
| --- | --- |
| Air permeability | class 4 wg PN-EN 12207 |
| Waterproof | class 9A wg PN-EN 12208 |
| Wind load resistance | class C4 wg PN-EN 12210 |
| Heat transfer coefficient | Uw from 0,7 W/m²K |
| Burglary resistance | class RC2 |
| Sound insulation | Rw 42 dB |
| Impact resistance | class I5/E5 wg PN-EN 14019 |
| Gaskets | EPDM, TPE |
| | |
Quick contact
Need more information?
Get in touch with our specialists:


CHIEF TECHNOLOGIST FOR ALUMINIUM





Partners
We work with the highest quality products