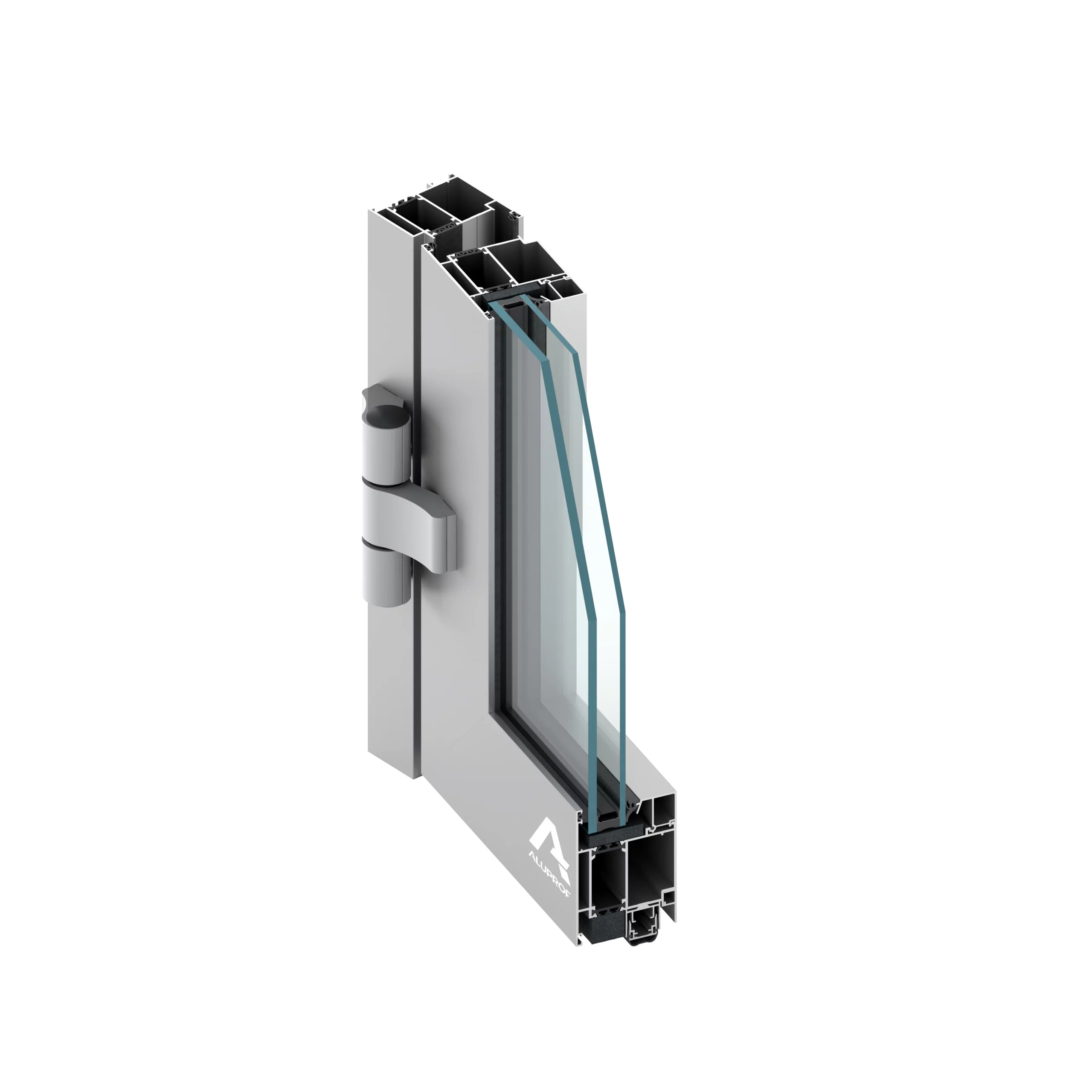 MB-79N, which is the most advanced and economical window and door system in Aluprof's range, has been developed with increased thermal insulation requirements in mind. It is used to realise a variety of constructions such as fixed, casement, tilt, tilt and turn and tilt and slide windows, single and double-leaf external doors, as well as shopfront solutions with doors.
In addition to the economical MB-79N E version with a one-component central gasket in the windows and the MB-79N ST version with a two-component central gasket, the system also includes the MB-79N SI variant. The latter is characterised by the best thermal insulation, containing profiles with insulating inserts and a two-component central gasket.
An MB-79N SI+ variant with insulating inserts inside the profiles and a central gasket is also available for external doors. An outward-opening window system with a thermal break, MB-79N Casement, and a window system with a concealed sash, MB-79N US, are also included in the offer.
Uw from 0,64 W/(m2K)
FUNCTIONALITY AND AESTHETICS
profiles with a depth of 79 mm (window casement) and 70 mm (frame and door casement)
thermal breaks made of an innovative material with a new shape, allowing the seal to be applied to the profile insulation zone in both windows and doors
3 thermal construction variants for windows (MB-79N E, MB-79N ST, MB-79N SI) and 3 variants for doors (MB-79N ST, MB-79N SI and MB-79N SI+)
construction that meets the requirements of the Technical Conditions from 2021 for windows (0,9 W/(m2K) and doors (1,3 W/(m2K))
thermal insulation: UW from 0,64 W/(m2K)
very good kinematics, allowing for the construction of narrow opening windows
the door leaf profiles have an expansion joint, which eliminates thermal stress during use
the possibility of using invisible hinges and the most popular perimeter fittings, including concealed fittings, together with the state-of-the-art AluPilot window fitting; fittings with automation and access control functions are also available on doors
a wide range of glazing with 2- or triple glazing packets with a thickness of up to 63 mm for windows and up to 54 mm for doors, which allows the use of all common types of glass, including acoustic or burglar-proof glass
possibility to produce burglar-proof doors in classes RC1 – RC3 as well as panel doors, offering a wide range of aesthetic possibilities
a large selection of handles in different design ranges, including handles with a visible escutcheon or without escutcheons, with a minimalist look
an outward opening window variant with thermal break MB-79N Casement and a window variant with concealed casement MB-79N US are available
Temperature distribution of the MB-79N SI+ door
Technical data and parameters
| | |
| --- | --- |
| TECHNICAL DATA | MB-76N |
| Frame depth | 70 mm |
| Sash depth | 70 mm |
| Glazing thickness | wing: 1,5 – 54 mm |
| Max. wing dimensions (H×L) | H to 2800 mm, L to 1400 mm |
| | |
| --- | --- |
| TECHNICAL SPECIFICATIONS | MB-76N |
| Air permeability | class 4, EN 12207 |
| Waterproof | class E 900, EN 12208 |
| Thermal insulation | UD from 0,90 W/(m2K)*** |
| Wind load resistance | class C5/B5, EN 12210 |
*** – UD MB-79N SI+ door with 1400×2800 mm sash size, with glass Ug=0,5 W/(m2K)
Examples of heat transmission coefficients UD
DOOR DIAGRAMS
SECTION A OR B
Value UD W/(m2K)
Glass with Multitech frame
Dual chamber
Single-chamber
Ug=0,5
Ug=0,7
Ug=1.0
MB-79N E (ST)
1.16
1.29
1.51
MB-79N SI
1.06
1.20
1.44
MB-79N SI+
1.01
1.14
1.35
Quick contact
Need more information?
Get in touch with our specialists:


CHIEF TECHNOLOGIST FOR ALUMINIUM





Partners
We work with the highest quality products