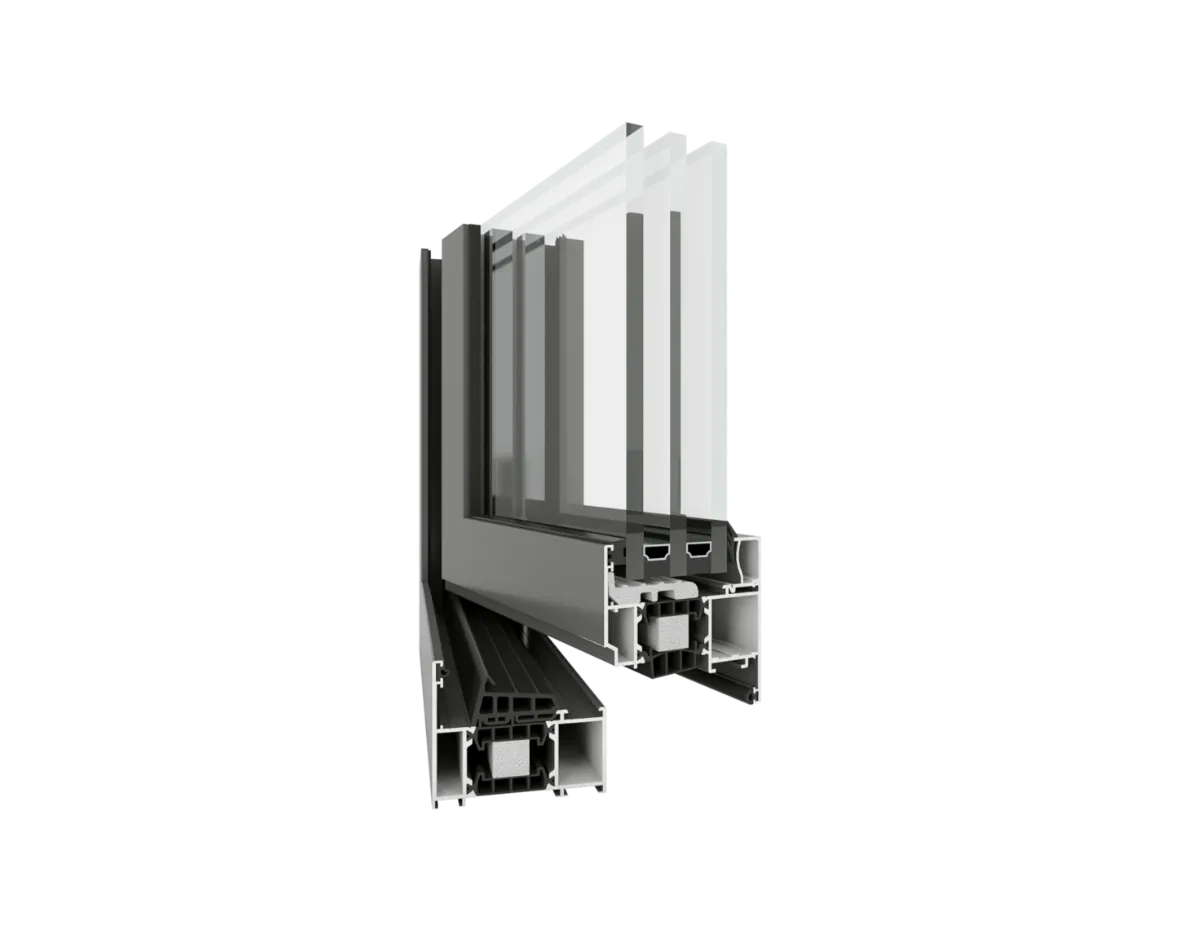 The TM 77HI system is a safe and innovative solution for excellent thermal insulation, acoustic performance, wind and water protection and security.
The use of spacers between the aluminium profiles resulted in excellent thermal insulation values. The role of thermal insulation is fulfilled by chamber insulators dedicated to the system, together with the filling.
ADVANTAGES OF THE SYSTEM
• the possibility of significantly reducing heating costs,
• the possibility of creating large-scale structures allowing for modern façade and interior design,
• compatibility with a range of fittings and controls,
• the possibility of realising modern construction solutions in various configurations and layouts,
• the possibility of achieving an excellent heat transfer coefficient of Uf = 0,8÷1,5 W/m²K thanks to the system's unique thermal insulation solutions,
• Possibility of balcony doors with low threshold,
• Can be combined with other Yawal systems.
TECHNICAL SPECIFICATIONS
 
TM 77HI WINDOWS
TM 77HI DOORS
 Air permeability
class 4 wg PN 12207
class 4 wg PN-EN 12207
 Waterproof
E1650 wg PN-EN 12208
E900 wg PN-EN 12208
 Heat transfer coefficient
Uf =0,8÷1,4 W/m2K
wg PN-EN ISO 10077-2
Uf = 0,9÷1,5 W/m2K
wg PN-EN ISO 10077-2
 Sound insulation
39÷48 dB wg PN-EN ISO 140-3
36÷45 dB wg PN-EN ISO 140-3
 Burglary resistance
RC2, RC3, RC4
RC2, RC3
 
 
 
SYSTEM CHARACTERISTICS
Window construction depth
Frame profile
77 mm

Wing profile
86,4 mm

Door construction depth
Frame profile
77 mm

Leaf profile
77 mm

Glazing thickness for the window
Frame profile

19÷61 mm

Wing profile

28÷67 mm
Maximum wing weight
Okna
180 kg
Doors
250 kg
Maximum dimensions
Windows
– Single-winged: 1300 mm x 3000 mm (width. x height.)

– bi-fold: 2600 mm x 2200 mm (width. x height.)

Doors
– Single-winged: 1593 mm x 2235 mm (width. x height.) oraz 1103 mm x 3085 mm (width. x height.) and 1257 mm x 2400 mm (width. x height.)

– bi-fold: 2400 mm x 2400 mm (width. x height.)

– bi-fold with floodlights and overlights: 4200 mm x 2700 mm (width. x height.); (doors 1922 mm x 2200 mm width. x height.)
Quick contact
Need more information?
Get in touch with our specialists:


CHIEF TECHNOLOGIST FOR ALUMINIUM





Partners
We work with the highest quality products