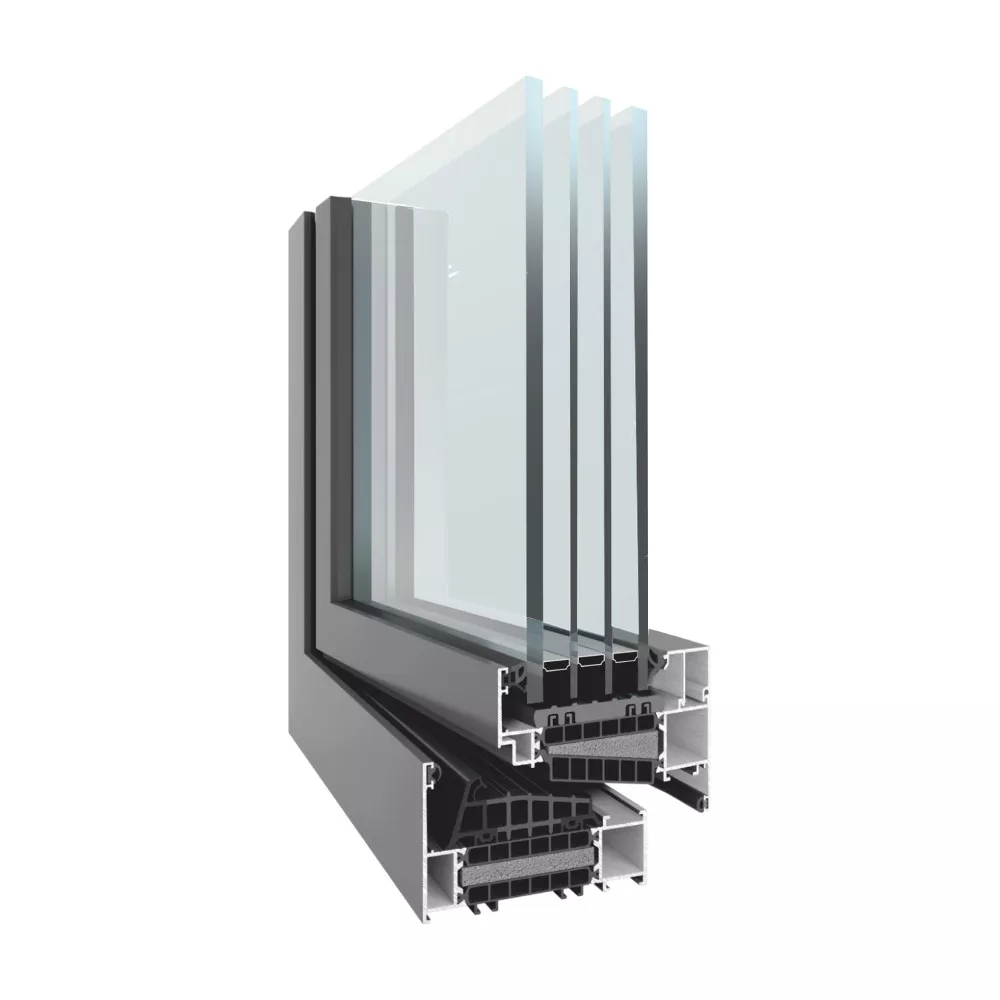 The YAWAL TM 102HI system is dedicated to energy-efficient and passive construction. It will perform well in public buildings as well as in residential buildings.
This is an extensive aluminium profile system for the manufacture of modern types of windows, doors and display cases requiring high thermal insulation. The innovative construction of the window sash with the applied insulator set at an angle in relation to the casing provides a favourable arrangement of forces in the profile. This has made it possible to obtain high-strength profiles allowing for the creation of large and heavy structures. The system offers a wide range of glazing and the possibility to install all types of two- and three-chamber glass available on the market.
In order to meet the ever-increasing expectations in terms of thermal insulation, Yawal has developed the TM 102HI system dedicated to passive and energy-efficient construction – Uw from 0,4 W/(m2K). TM 102HI meets the highest requirements in terms of durability, quality and aesthetics of the shaped objects. The durable and airtight construction of the system significantly reduces the access of cold air into the building in winter and protects it from excessive heating in summer.
ADVANTAGES OF THE SYSTEM
 the possibility of using the full range of fittings available on the market: surface-mounted ALU, groove-type PVC, concealed hinges, handles of any shape, stainless steel handles,
 an excellent level of energy efficiency and very high water tightness thanks to the innovative design of the central seal,
 modern design of snap profiles in combination with new gaskets – the possibility of a single plane on the aluminium-gasket line,
 possibility to produce a glazing reversal profile,
 the possibility of creating large-scale structures,
 balcony doors with low threshold possible,
 possibility to make a window with a movable mullion,
 additional windproofing through the use of a seal between the glazing bead and the profile,
 can be combined with other Yawal systems.
TECHNICAL SPECIFICATIONS
| | |
| --- | --- |
|  Air permeability | class 4 (600 Pa) |
|  Waterproof | class AE1800 (1800 Pa) |
|  Heat transfer coefficient | Uf = from 0,45 W/m2K |
|  Sound insulation | 39÷48 dB wg PN-EN ISO 140-3 |
|  Burglary resistance | RC2 |
|  Wind load resistance | class C5 (2000 Pa) |
|   |   |
SYSTEM CHARACTERISTICS
 Window construction depth
 Frame profile
102 mm

 Sash profile
111,4 mm

 Permissible thicknesses of fillings
 Frame profile
35÷69 mm

 Sash profile
44÷72 mm

 Maximum sash weight
 Windows

180 kg
 Doors
250 kg
 Maximum dimensions
 Windows
1400 mm x 3000 mm (width. x height.)
 Doors
– Single-winged: 1400 mm x 3000 mm (width. x height.)
– bi-fold: 2400 mm x 3000 mm (width. x height.)
 
 
Quick contact
Need more information?
Get in touch with our specialists:


CHIEF TECHNOLOGIST FOR ALUMINIUM





Partners
We work with the highest quality products