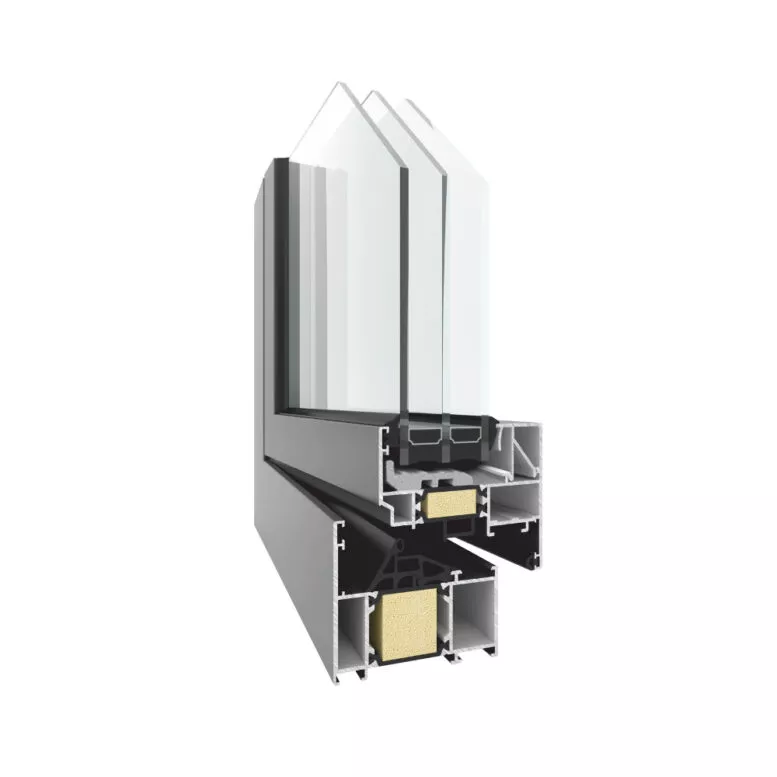 The system is used to construct windows, doors and showcases with high thermal insulation parameters for use in residential, public and industrial buildings.
The thermal insulators used in the system (made of glass fibre-reinforced polyamide) and the space between them is additionally filled with polyurethane foam. The system makes it possible to create large-size structures due to the use of reinforced profiles on the outside as well as on the inside.
ADVANTAGES OF THE SYSTEM

optimisation of building operating costs through increased thermal insulation of profiles,
the possibility of realising modern window construction solutions in various configurations,
bendable profiles,
the possibility of installing windows in façade systems,
possibility to build sets of structures combined at any angle
possibility to use a full range of modern fittings and individual handles or pulls thanks to the use of different profile widths,
possibility of using concealed hinges and remote-controlled locks thanks to the profile widths used,
split thermal breaks to eliminate the bimetallic effect,
can be combined with other Yawal systems.
TECHNICAL SPECIFICATIONS
| | | |
| --- | --- | --- |
|   | TM 74HI WINDOWS | TM 74HI DOORS |
|  Air permeability | class 4 wg PN-EN 12207 | class 4 wg PN-EN 12207 |
|  Waterproof | E 1050 wg PN-EN 12208 | E 900 wg PN-EN 12208 |
|  Heat transfer coefficient | Uf = from 1,0 W/m2K wg PN-EN ISO 10077-2 | Uf = from 1,2 W/m2K wg PN-EN ISO 10077-2 |
|  Sound insulation | Rw = 31÷44 dB wg PN-EN ISO 20140-3 | Rw = 28÷42 dB wg PN-EN 20140-3 |
|  Burglary resistance | RC2, RC2N, RC3 | RC2, RC2N, RC3 |
|  Wind resistance  | class 5 | class 4  |
SYSTEM CHARACTERISTICS

 Window construction depth
 Frame profile
74 mm

 Sash profile
83,4 mm

 Door construction depth
 Frame profile
74 mm

 Leaf profile
74 mm

 Glazing thickness for the window
 Frame profile

16÷58 mm

 Sash profile

25÷66 mm
 Maximum sash weight
 Windows
180 kg
 Doors
250 kg
 Maximum dimensions
 Windows
– Single-winged: 1400 mm x 2800 mm (width. x height.)

– bi-fold: 2400 mm x 2700 mm (width. x height.)

 Doors
– Single-winged: 1400 mm x 3000 mm and 1103 mm x 3085 mm (width. x height.) and 1500 mm x 2600 mm (width. x height.)

– bi-fold: 2700 mm x 2800 mm (width. x height.)

 
 
Quick contact
Need more information?
Get in touch with our specialists:


CHIEF TECHNOLOGIST FOR ALUMINIUM





Partners
We work with the highest quality products