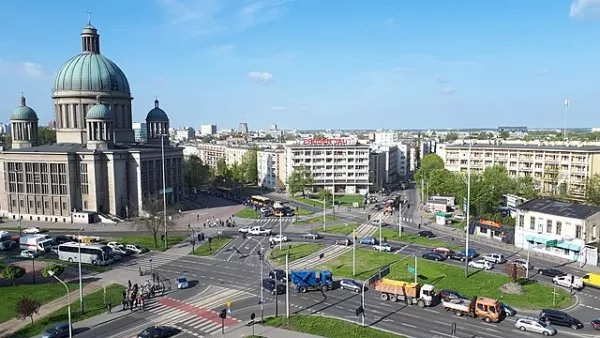 Windows for your home Łódź – the best showcase for your building
Windows Łódź are an important element for any home or building. Although we do not notice their important role on a daily basis, they provide us with comfort and safety for everyone.Fintecnic windows in Łódź are a combination of innovative technologies and functional energy efficiency. The window distributor cares about constant development and tailoring its offer to the expectations of customers in Łódź, which is why it offers a wide range of window joinery: aluminium windows, uPVC windows and sliding windows, as well as sectional gates or mosquito nets in Lodz. A wide range of shades and window accessories will provide a unique and aesthetically pleasing look to any building with uPVC Windows Fintecnic in Lodz!
Fintecnic – uPVC windows Łódź
Looking for windows that combine aesthetics, functionality and durability? You are in the right place. At Fintecnic, we offer top quality uPVC windows that will provide you with complete comfort and security for years to come.
Choosing windows for your home is one of the most important decisions you have to make when building or renovating. After all, windows serve many functions – from providing natural light and ventilation, to thermal and acoustic insulation, to aesthetically complementing your architecture. At Fintecnic, you'll find uPVC windows that combine the best in technology and design.
UPVC windows are one of the most popular window joinery options available on the market. Not without reason! Bet on the highest quality. Find out how much you can gain by choosing a window joinery manufactured not only with care for even the smallest technical parameter, but also for aesthetic appearance and functional use.
High energy efficiency of uPVC windows from Lodz
Energy efficiency is one of the key aspects to consider when choosing windows for your home. This term refers to the windows' ability to retain heat inside the building in winter and keep the air cool in summer, resulting in reduced heating and air conditioning costs.
Insulating properties of UPVC windows
Polyvinyl chloride, from which PVC windows are made, is a material with a very low thermal conductivity coefficient. This means that it minimises the transfer of thermal energy between the interior of the building and the external environment.
Thus, by choosing uPVC windows, you can be sure that heat is retained inside your house or flat in winter and that no cool air escapes to the outside in summer.
Multi-chambered window profiles
Fintecnic uPVC window profiles are designed to provide maximum energy efficiency. They consist of several gas-filled chambers that further enhance insulation. Each of these chambers acts as a kind of small barrier, stopping the flow of heat and cold.
High-performance glass
Fintecnic uPVC windows use high performance glass – double or triple glazing, with gas filling and low emissivity coatings.
At Fintecnic, we look at all the technologies that greatly enhance the ability of a uPVC window to retain heat inside a room in winter and reflect solar heat in summer.
PVC window seals and installation
UPVC windows are fitted with high quality gaskets that ensure precise sealing of the joints. Combined with professional installation, they provide excellent insulation that eliminates draughts and leaks.
By choosing high performance, you choose to save money – uPVC Windows Łódź
All of these elements translate into significant energy savings. Replacing old windows with new, energy-efficient uPVC windows can reduce energy consumption for heating by up to 30%. This translates into direct financial savings and makes uPVC windows an investment that more than pays for itself over time.
It is worth noting that uPVC windows are available in different energy classes, allowing you to choose the most appropriate solution depending on the specifics of your building and local climate conditions. Check the offer of uPVC windows Łódź and choose the variant that will best suit your needs and expectations.
Durability and ease of maintenance of uPVC windows
At Fintecnic, we are aware that homeowners are not only looking for energy-efficient windows, but also those that are durable, easy to clean and weatherproof. And this is where uPVC Windows Łódź significantly differentiates itself from other materials.
UPVC windows – high weather resistance
PVC windows are extremely resistant to various weather conditions. Polyvinyl chloride is a synthetic material that is extremely resistant to moisture, UV radiation and both high and low temperatures. In practice, this means that uPVC windows do not fade when exposed to the sun, do not deform when exposed to temperature and do not rot or rust when exposed to moisture.
Surprising durability of uPVC windows
UPVC windows are extremely durable. Thanks to their properties and construction, they can serve for many years, even in the harshest conditions. They rarely crack, warp or break, which is a common problem with windows made from other materials.
Easy maintenance.
UPVC windows do not require any special maintenance such as painting or varnishing. They are easy to clean – it is usually enough to wash them with warm water and a mild detergent to refresh their appearance and remove any dirt. This makes them an ideal choice for those who value low maintenance and ease of maintenance.
Resistant to mechanical damage.
uPVC windows from Lodz are also resistant to mechanical damage. They do not scratch easily, and even if damage does occur, it is usually less visible on a uPVC surface than on wood or aluminium. In addition, uPVC windows are resistant to pests.
Fintecnic uPVC windows are a guarantee of longevity.
Given all of the above advantages, it is no surprise that uPVC windows are extremely long-lasting. The long warranty on uPVC windows is undoubtedly a testament to their reliability.
Buy with confidence – choose uPVC windows.
Durability and ease of maintenance are key factors in choosing uPVC windows. Thanks to their unique properties, these windows are able to last for many years while maintaining their appearance and performance, with minimal maintenance and costs.
Availability and variety of uPVC windows Łódź
.
When you decide to replace old windows in your home or choose windows for a new building, an important factor is the availability and variety of options. uPVC windows are a clear winner in this area too, offering a wide range of customisation options to suit individual preferences and needs.
Wide range of sizes and shapes
uPVC windows are available in a wide range of sizes and shapes, meaning they can easily fit into virtually any window opening. Whether you need standard sizes or non-standard shapes and sizes, you can find the right uPVC window in our range. Check out the extensive Fintecnic range now!
Energy saving and security options.
Different models of uPVC windows offer different levels of energy efficiency, as well as different security options. You can choose between double or triple glazed windows, with different types of gas fillings and low-e coatings. In terms of security, too, you can decide on the degree of protection by choosing between different types of locks and handles.
Safety of uPVC windows
.
Security is certainly one of the most important factors to pay particular attention to when choosing windows for your home or flat. UPVC windows are a choice that excels in this regard compared to other available solutions.
Burglary resistance.
The robust PVC profiles and the locking systems used, reinforced with steel elements, make unauthorised access to the interior of the building difficult. It is possible to further strengthen PVC windows by choosing special reinforced or toughened glass and by using additional locks.
Weather resistance.
As previously mentioned, uPVC windows are resistant to various weather conditions. As a result, they are able to withstand strong winds, heavy rain or snow without damage, making your home safer in the event of extreme weather conditions.
PVC Windows Łódź and fire safety
.
When choosing windows for your home or building, fire safety is one of the most important aspects. With uPVC Windows Łódź Fintecnic, you can be sure that your window joinery will be of the highest quality also in terms of fire safety.
PCV – self-extinguishing material.
The most important feature of PVC windows is that polyvinyl chloride (PVC) is a self-extinguishing material. Once the source of ignition is removed, the material will not support flames. As a result, in the event of a fire, PVC windows will not contribute to the spread of fire, which is extremely important for the safety of the building and its occupants.
Minimising smoke production
In fire situations, smoke is often a greater threat than the fire itself. Smoke can obscure visibility, making evacuation difficult, and is additionally dangerous to the respiratory system and can lead to poisoning. UPVC windows generate significantly less smoke when burning compared to many other materials, which is an added advantage from a fire safety perspective.
High melting point.
Polyvinyl chloride has a relatively high melting point, which further enhances fire safety. This characteristic makes PVC windows more resistant to the high temperatures that can occur during a fire, which in turn delays the spread of fire.
Restriction of air access.
In addition, thanks to their excellent airtightness, uPVC windows limit the access of oxygen into the building.
Acoustic insulation of uPVC windows
.
There is no denying that one of the key factors affecting the comfort of living in a house or flat is the level of noise that enters it from outside. The importance of this aspect increases especially in the context of flats and houses located on busy streets or in close proximity to noise sources such as airports, railway stations or industrial areas. At Fintecnic, you will order uPVC windows that have been designed with excellent sound insulation in mind.
Excellent noise dampening properties.
uPVC Windows Łódź from Fintecnic have excellent noise dampening properties thanks to their unique properties. PVC is a material that has a high density and is therefore a natural sound insulator. What's more, thanks to double or triple glazing and special gaskets, uPVC Windows Łódź are even more effective at dampening sounds that could penetrate through single glazing or less airtight windows.
Precise fit and tightness.
Thanks to the ability to fit precisely to window openings and the use of multi-chambered seals, uPVC windows from Fintecnic provide excellent airtightness. All of this not only contributes to energy efficiency, but also effectively reduces external noise penetration.
Longevity and maintenance of insulation properties.
As we highlighted above, uPVC Windows Łódź are characterised by their high durability, which means that their insulating properties do not diminish over time either. As a result, once installed, uPVC windows will protect against noise for many years, regardless of weather conditions or temperature changes.
UPVC windows are an excellent choice for anyone who values peace and quiet in their own home. High acoustic insulation, the possibility of using acoustic glazing, a precise fit, excellent tightness and durability and maintenance of insulating properties for many years make the PVC windows available in our offer an ideal solution for those wishing to effectively isolate their flat from external sounds and ensure quietness in their home space.
PVC windows – the best choice for the sake of ecology
.
Have you ever wondered how your choice of windows affects the environment? In this age of growing awareness, more and more people are looking for products that are not only functional and aesthetically pleasing, but also earth-friendly. If you value caring for the planet and want your home to be greener, uPVC windows that are available from Fintecnic are the best product for you.
Energy efficiency – saving for you and the planet.
There is no doubt that uPVC Windows Łódź has no competition when it comes to energy efficiency. The excellent thermal insulation they provide means less energy is used to heat and cool your home. All this translates into less CO2 emissions into the atmosphere. By choosing uPVC windows, you not only save on your energy bills, but you also contribute to reducing global warming.
Longevity – less waste.
UPVC windows are extremely durable and can last for decades without the need for replacement. This means less waste in landfill and less need for new resources. Your uPVC windows will last you for many years while helping to protect the planet.
Recycling – a second life for your windows.
Did you know that uPVC windows are 100% recyclable? When it's time to replace them, they won't end up in landfill. Instead, they can be recycled and used to make new products.
Environmentally safe – no toxic components.
PVC windows are manufactured without the use of harmful compounds and substances. This makes them completely safe not only for you and your family, but also for the environment. By choosing uPVC windows, you are choosing a product that complies with the highest environmental standards.
Choose uPVC windows and consciously protect our planet.
Choose uPVC windows and join the ranks of those who care about the environment. By choosing eco-friendly products, you are contributing to the protection of our planet for future generations, and at the same time you are getting extremely functional and aesthetically pleasing windows that will serve you for many years. It's the best choice – for you, for your home and for the planet.
Why choose uPVC windows Łódź?
.
Advanced Technologies.
Using the latest technology, our uPVC windows meet all energy and acoustic standards.
Esthetics and Practicality.
Our uPVC windows are not only functional, but also aesthetically pleasing. We offer a wide range of colours and designs, thanks to which our products will perfectly match any interior and satisfy the most demanding customers.
Professional Service.
Our qualified staff provide professional assistance at every stage of your order – from the selection of windows, through their installation, to warranty service. We value our customers' satisfaction, so we are always at your service.
Satisfaction Guarantee.
We make sure that our customers are satisfied with our services. That's why we offer a satisfaction guarantee on our uPVC windows. If for some reason our product does not meet your expectations, we will do everything we can to change that.
We invite you to take advantage of our offer. Discover the comfort and warmth that our uPVC windows will give you. Contact us today and our specialists will help you choose the best solutions for your home.
Quick contact
Need more information?
Get in touch with our specialists:


CHIEF TECHNOLOGIST FOR ALUMINIUM





Partners
We work with the highest quality products